COVIDSafe Events Plan
Museum Spaces – Melbourne Museum, Scienceworks and Immigration Museum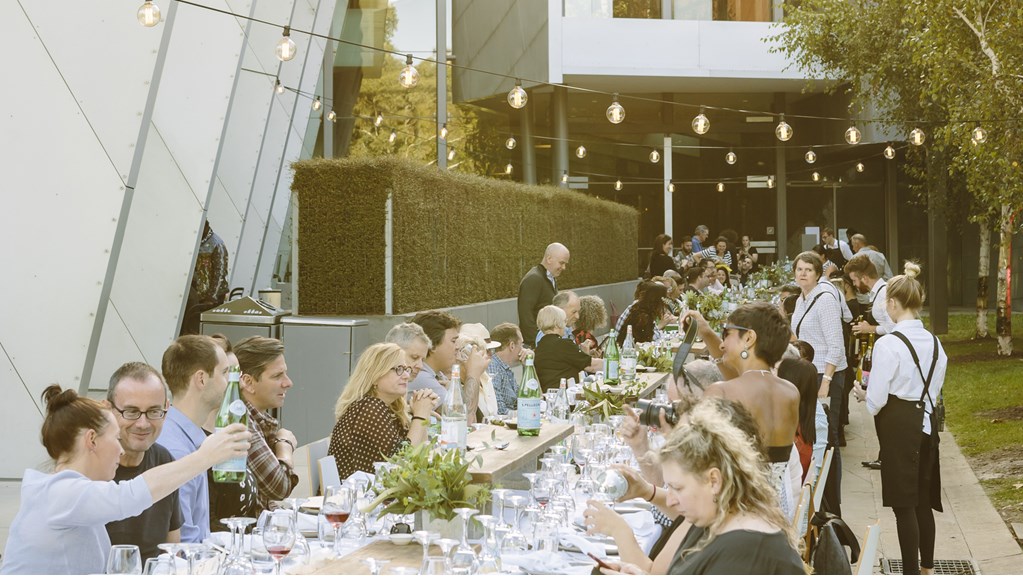 Museums Victoria actively promotes the management of a COVIDSafe environment for all visitors and staff. Working with the Victorian Government, our COVIDSafe plans ensures public health measures are in place so visitors can enjoy our spaces.
Museum Spaces is committed to best-practice industry standards, we will work with you and your team to ensure the safe delivery and operation of events held in our spaces across our collection of venues. The health, and safety of all our visitors, staff, exhibitors, vendors, delegates, contractors and venue staff is Museums Victoria's highest priority.
Please note the following steps we have put in place to provide safe and secure event spaces.
See also: COVIDSafe Events Plan – Royal Exhibition Building
Event Organisers
If you are planning a public event in Victoria, it is your legal responsibility to ensure that you are designing a COVIDSafe event that adheres to public health advice.
It is the responsibility of the event organiser to ensure that workers, including volunteers, vendors and contractors, understand and comply with COVIDSafe work practices, including training in COVIDSafe behaviours.
All Museums Victoria sites have a COVIDSafe Plan in place and can operate events consistent with the Restricted Activity Directions (Victoria). Please discuss event- specific details with Museum Spaces staff to ensure your event is compliant with these Restricted Activities.
Steps for Prevention

Physical Distancing • PPE • Hygiene & Cleaning • Communication • Record Keeping
Hygiene & Cleaning
Before & After Your Event: Our Venues will be deep cleaned before and after each event. A deep clean includes a thorough clean of floors as well as infection control cleaning of each hired space. This clean will be done by our authorised cleaning supplier and will be completed before you arrive.
During Your Event: Our cleaning supplier (Menzies International) will work to a detailed cleaning schedule and ensure frequent cleaning and disinfection of high touch surfaces and bathroom facilities in accordance with the most up to date health and safety advice. Our team will brief and coordinate the cleaners on your behalf.
Hygiene: Each Museum has Sanitiser Stations in place at key entrance points to the building. Sanitiser will be provided for your event.
Our team is here to work through your floorplans with you to ensure additional hygiene measures are in place.
Physical Distancing
The Museum Spaces team will work with you to ensure your floorplan meets physical distancing compliance and demonstrates safe and considered actions for prevention of transmission. Capacities of spaces must also be in line with current government advice.
Patron flow, queuing and ticketing will be reviewed to minimize build-up of persons entering and leaving a space.
Record Keeping
Upon arrival to your event, guests will be asked to complete the Museums Victoria QR Code Check In. This check in can only be completed in person on arrival.
The QR Code will Record the name, phone number and area for each attendee (including, event staff, contractors, operational times and bump in/out) compliant with privacy obligations.
Consistent with Victorian Government protocols, Museums Victoria will keep records of all people who enter and spend longer than 15 minutes onsite for contact tracing purposes.
Incident Management
Museums Victoria has developed an incident management plan specific to our sites, and activities consistent with Victorian Government advice. Our Event Planners and onsite staff will work with you and your team to implement these procedures.
PPE
Everyone onsite must adhere to current government advice in regards to the wearing of PPE.
Fitted Face Coverings: please note from 11.59pm Thursday 24 June 2021, a suitable fitted face covering must be worn indoors at all times unless eating and drinking. In all other environments, a suitable fitted face covering must be carried at all times and worn when physical distancing becomes difficult to maintain.
Communication
Communication is vital to ensure all stakeholders are briefed and aware of COVIDSafe measures in place to ensure public health and safety.
Before Your Event
Develop communications processes and materials to ensure that workers and guests attending the event receive education and guidance on physical distancing, good personal hygiene and staying home if feeling unwell.
Event organisers must communicate the following public health messages to attendees:
Each attendee is asked to do a symptom self-assessment prior to leaving home and not attend if they are unwell or have been instructed to isolate or quarantine.
Attendees must maintain at least 1.5m physical distance between those from other groups at all times.
To minimise movement, attendees must stay within their allocated spaces or seats where practical.
Requirements for face covering, observe cough etiquette and personal hygiene measures.
A reminder of public health measures must be included in the ticketing sales process, visible on the ticket or as an email reminder.
During Your Event
During the event, event organisers are required to regularly reinforce public health messages – use broadcast messages, signage, and workers/volunteers to communicate this information with attendees.
Capacities
These capacities may be subject to change. Event planners should confirm venue capacities with Museum Spaces staff ahead of their event.
Venue/Space
Cocktail
Banquet
Theatre
Melbourne Museum:
Treetops
98
98
98
Main Foyer and Walk
1,000
650
600
Touring Hall Foyer
359
190
160
Touring Hall
443
443
443
Theatre
N/A
N/A
214
Melbourne Gallery
189
150
100
Birrarung
283
230
110
Kalaya
150
N/A
N/A
Science and Life Gallery
192
50
N/A
Mind and Body Gallery
262
150
N/A
Seminar Room
N/A
16
40
North Terrace
187
N/A
N/A
Immigration Museum:
The Long Room
150
150
150
Atrium
50
50
50
Courtyard
230
150
N/A
Grand Foyer
54
54
54
Scienceworks:
Boiler Room
190
190
190
Engine Room
150
100
N/A
Planetarium Foyer
150
130
N/A
Planetarium
N/A
N/A
150
Helen R Quinn Energy Lab
N/A
N/A
57
Conference Room
N/A
N/A
25
Lightning Room
N/A
N/A
118
Main Exhibition Gallery
450
N/A
N/A
Scienceworks Arena
500
300
N/A
Royal Exhibition Builiding:
Ground Floor
N/A
2,420
2,828
Do not hesitate to get in touch with the Museums Spaces team should you require support, assistance or clarification about any aspect of these guidelines in relation to your event.
See also